Miami Car Accident Attorney
Car accidents are a common occurrence in Miami, and they often lead to damage to the vehicle and potential injuries to drivers and passengers. After a car crash, you may not know what to do or who to turn to for help with your mounting expenses. Luckily, a Miami car accident lawyer like Callejo Law can help.
An attorney can evaluate your case and determine if you have a legitimate shot at filing a claim and winning compensation to make up for your expenses. Florida has complicated laws regarding car crashes, and not every accident could lead to restitution. You'll want a lawyer on your side who can help evaluate your case and see if you have a reasonable chance of getting a payout.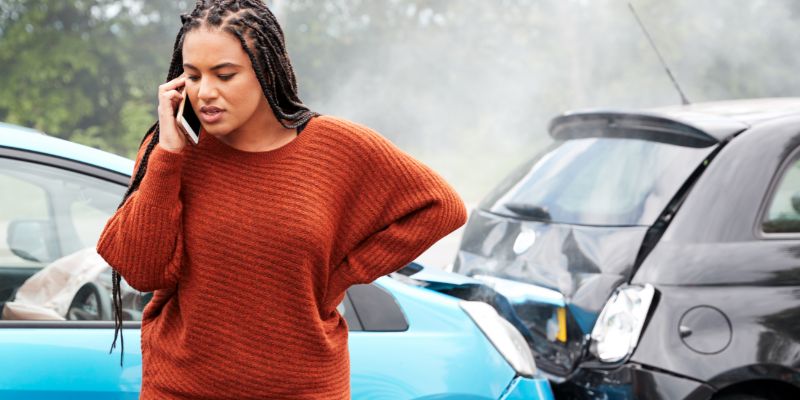 Callejo Law Can Help You Recover After a Car Accident
After a car crash, you will likely want to file a claim against the at-fault party. Florida is a no-fault state regarding car crashes. That law will affect your ability to file any potential claims, meaning that you'll likely want a lawyer to help you understand your rights.
Callejo Law has plenty of experience dealing with personal injury and car accident civil trials. Led by Karen Callejo, the firm is here to help people through their injuries and secure them a payout to ease the burden that comes with medical expenses.
Ms. Callejo is bilingual and can assist Spanish-speaking clients with the potential legal representation they need. She began her legal career after graduating from Nova Southeastern University Law School in 1996 and has several awards to her name. She was named one of the top 100 trial lawyers by The National Trial Lawyers and is rated AV-Preeminent by Martindale-Hubbell.
What Are the Most Common Types of Car Crashes in Miami?
Motor vehicle crashes occur in many ways and levels of severity. Even a minor accident can lead to severe injuries and lifelong medical expenses. Additionally, you may miss out on work while rehabbing from the injury, leading to lost income.
We use our cars for many tasks in Miami, and if you find your car totaled after an accident, you'll be unable to do many of the tasks you take for granted. Going to the grocery store or work will now be an ordeal, and visiting friends gets a lot more difficult when you don't have your car.
Some of the most common accidents we see in our law firm include:
Rear-end collisions: Rear-end collisions, sometimes known as "fender benders," are the most common type of car crash we see in Miami. These types of accidents occur when one driver slams into the back of another driver's car. While some of these incidents are relatively minor, with no major damage or injuries, other times, they can be high-speed accidents. The tailing driver is most likely to cause a rear-end crash by driving recklessly or failing to brake in time. In other instances, the lead driver may cause an accident by failing to signal or having faulty brake lights.
Head-on collisions: Head-on collisions are some of the most dangerous incidents on the road and can lead to fatalities. These crashes stem from two drivers heading in opposite directions and having the front ends of the cars strike each other. Such accidents can easily damage critical components of the car, like the engine and transmission. The National Highway Traffic Safety Administration also notes that these accidents come with an increased chance of ejection from the vehicle.
Distracted driving incidents: There are more distractions for us to look at while driving than ever before. Nearly everyone has a cell phone, and most modern vehicles have a big touchscreen that can distract a driver's attention. These actions often lead to accidents of some form. You may have grounds to file a claim against another driver if their distracted driving led to an accident. You'll have to prove this in court, so you may want to enlist the services of an attorney to help you demonstrate that the other driver was distracted while driving.
Multi-vehicle accidents: In congested traffic, a single collision can set off a chain reaction, leading to a multi-vehicle crash. The struck vehicle may lurch forward and hit another car or veer into another lane and strike an oncoming vehicle. Multi-vehicle accidents are especially difficult when filing a claim, as you'll have other drivers involved in the legal battle. Every driver will be trying to find out who is at fault and how they can get the most money from insurance for the accident.
Broadside or T-bone collisions: These accidents happen when one car strikes the driver's side or passenger's side doors of another vehicle. If you're in a T-bone crash, you may suffer severe injuries if your side is the site of the impact. Your car will also take plenty of damage from the crash, as they aren't as armored on the sides as they are at the back.
DUI collisions: If another driver is driving while under the influence of drugs, they may have impaired abilities and end up in an accident. Over 10,000 people die each year from DUI accidents in the country, and it's one of the most common ways for someone to be killed in a car crash. Although Florida is a no-fault state, you may be able to pursue a civil case against another driver if there is reason to suspect they were DUI at the time of the incident.
Common Injuries From Car Crashes
After a crash, the hope is that everybody is okay and the only damage you suffered was to your vehicle. After all, you can always replace a car, but you can't replace people. Unfortunately, car crashes rarely happen without injuries. Even low-speed crashes can lead to injuries for any driver or passenger involved. Driving 15 miles per hour may not seem like a lot, but these crashes still have the potential to leave someone severely injured with some bad luck.
Unlike some other accidents, where you may have time to brace yourself, a car crash happens in a second, and you won't be able to catch yourself or prepare for the impact. Instead, you will be caught off guard and likely won't have time to prepare your body to absorb the blow. This can lead to injuries being more severe than you might think when looking at the contact.
It can be useful to look at some of the most common injuries we see from car accidents at Callejo Law.
Neck injuries and whiplash: Whiplash is one of the most common injuries from a car crash. Whiplash is a sort of catch-all for neck injuries resulting from an accident, most commonly rear-end collisions. You can get whiplash even in low-speed accidents. It's tough for doctors to diagnose whiplash or other neck injuries, so you may want to hire a lawyer to advocate for you to the insurance company. They can help you demand compensation to pay for medical treatments for any neck injuries.
Traumatic brain injuries: Car accidents cause more traumatic brain injuries than any other type of accident. A TBI can lead to death or permanent disability in many cases. In a car crash, a TBI occurs because of the force of the collision or an occupant in the vehicle smacking their head against something. You'll likely be dealing with long-term medical needs if you suffer a TBI.
Spinal cord injuries: Similar to a TBI, a spinal cord injury can cause long-term health issues and paralysis in extreme cases. The spine is one of the most important parts of our bodies, and the torque and force from a car crash could damage it.
Back injuries: These are different from spinal cord injuries, but they affect similar areas. Back injuries can negatively impact one's quality of life after an accident. They can linger and cause pain and discomfort from simple things like getting up from the couch or bringing in the groceries. Treatment for back injuries is expensive and often requires a significant amount of time and rehabilitation.
Broken bones: Our bones can stand up to some force, but enough pressure will easily snap them. Most broken bones won't lead to long-term medical concerns, but these injuries will require time for healing and coverage for any casts or crutches. Some bone breaks do lead to health problems, such as a broken pelvis.
Cuts and scars: The windshield and window glass will often shatter during an accident, and this flying glass can lead to lacerations. While some of these can be minor, certain cuts may lead to disfigurement of the face or scars across the body.
What Does It Mean That Florida Is a No-Fault State?
You may have heard people talk about how Florida is a no-fault state and were confused about what it means. Unlike other states, Florida has a no-fault provision for motor vehicle accidents. The state does not allow drivers to file a claim against others after a crash in most instances, no matter who may have initiated the crash. The state does provide scenarios when a driver can file a claim against another individual following a crash, however.
In Florida, instead of filing a claim against the other driver, any involved motorists should talk to their insurance companies about getting compensation to help with paying medical bills. Also, all Florida motorists must have Personal Injury Protection in their auto insurance, according to state law.
PIP does not cover everything, and if your medical expenses are high enough, you may be able to bring legal action against another driver. PIP covers 80 percent of your medical bills resulting from an accident and 60 percent of your lost income while you can't work. Additionally, only having access to PIP means that you will have to deal with deductible limits in your policy.
However, more severe injuries can allow you to file a claim against another driver. If the insurance company values your injury at more than $10,000 when accounting for medical expenses, you can file a claim against another driver. You may also bring legal action against another driver if you suffer any permanent injury, such as scars or the loss of a limb.
You'll likely want to speak with a Miami personal injury attorney to see if your case meets the level required to file a claim against another driver. You'll waste time and money if you try to seek compensation against another driver only to find that you weren't eligible.
What Sort of Compensation Can I Expect After a Car Crash?
For smaller accidents, you will only be able to seek compensation from the insurance company. They should cover 80 percent of your medical bills, meaning you'll have to come up with the other 20 percent out of pocket. The insurance company will also reimburse you for 60 percent of your lost wages while you are injured and unable to work.
If you were involved in a bigger accident with a severe or permanent injury, you'll be able to file a claim against the other driver if they were at fault. Depending on the circumstances, you may be able to get back the rest of your lost wages, additional help with medical payments, and compensation for your pain and suffering.
There's no standard explanation of what to expect in compensation after a crash, as every incident is different. Therefore, you'll likely want to hire a Miami attorney to handle your claim. Your attorney can have a better idea of what you can realistically get in court, and they can make sure that you can sue for damages. You'll have to prove some fault in what the other driver did to bring a claim against them in court.
Miami Car Crash Statistics
In 2022, Miami-Dade County saw a significant amount of car crashes. Statistics from the Florida Department of Highway Safety and Motor Vehicles report that there were over 63,000 crashes in the county in 2022. Of those crashes, 19,525 crashes included at least one injury, and there were nearly 29,000 injuries from all motor vehicle accidents. There were 316 fatalities from car crashes in Miami-Dade County in 2022.
Zooming out to the rest of the state, Florida has around 300,000 crashes every year, and more than half of them resulted in someone sustaining an injury. In 2020, 2,809 people lost their lives in the state after a motor vehicle accident.
Suffice it to say if you've suffered a car accident, you aren't alone. Callejo Law has plenty of experience working on personal injury cases after a car crash.
What Should I Do After a Car Crash in Miami?
The most important thing to do after a car crash is to remain calm. You'll likely be feeling plenty of anxiety and worry after the crash. Many clients have expressed to us that they're worried about their health, their car, and what will happen with their job. You'll want to keep your cool after the accident and make sure to follow the proper procedures.
Your top priority should be ensuring that everyone is okay. Check on anyone in your car and the other driver as well. If someone needs immediate medical attention, help them as much as you can and make sure you get them medical assistance.
You should then take pictures of the accident. Any damage suffered to your car and any injuries you have should be photographed. You will also want to exchange information with any other drivers involved in the accident. Get their name, a way to contact them, and any insurance information.
You'll need to speak with your personal injury protection insurance provider as soon as possible and explain what happened. They will determine how much they will offer you to assist in recovering from your injury.
You should also speak with a Miami car accident lawyer after the crash to help you navigate the insurance process. Your lawyer can also give you an idea if you have a reasonable chance of filing a claim against another driver to further assist with your medical bills.
Do I Need a Car Accident Lawyer to Help Me After a Vehicle Accident?
In short, there's no requirement to have a lawyer present when dealing with a car accident. Many people choose to navigate the insurance process without hiring legal representation. However, while you may not absolutely need a lawyer, having an attorney's help is worth it in many instances.
Car accidents and the injuries accompanying them are highly emotional affairs. After an accident, you'll likely want to file a claim against anyone you can in an effort to recoup some of the funds you'll lose from dealing with the injury. While this zeal is commendable, it's not always advisable to file a claim, especially in Florida.
Your lawyer can look over the case and what happened and then give you an honest appraisal of your ability to bring a claim against the other driver. You can only file a claim in Florida in special circumstances, so you may want to discuss the matter with an attorney before putting in the paperwork.
An attorney can also guide you through the sometimes difficult process of speaking with the insurance company. Your lawyer can help make sure that you get the maximum benefits from the insurance company so you can have everything you need to recover as well as possible.
FAQs
Q: How Much Does an Attorney Charge for a Car Accident in Florida?
A: If you have the option to file a claim against the other driver after a crash, you'll likely want to hire an attorney to oversee the case. In cases like this, the attorney will likely charge you on a contingency basis, meaning that you only have to pay if they win. Typically, an attorney will charge between 25 percent and 40 percent of your winnings as the fee for a claim.
Q: Should I Get a Lawyer After a Car Crash in Florida?
A: Yes! While it isn't mandatory to have an attorney present when dealing with a car crash, it can give you some peace and relief, and your lawyer can help walk you through the process. They can also help you if you plan on filing a claim against another driver. Your attorney can also give you unbiased advice and guidance that isn't clouded by emotions.
Q: Who Pays for Car Damage in a Florida No-Fault Accident?
A: Similar to personal injuries from the accident, you'll likely be dealing with the insurance company when trying to get the funds to repair your vehicle. All motorists must have auto insurance. While this can be a long and tedious process, the insurance company should offer you a fair settlement for repairing your car. If the damage exceeds the policy limit, you may be able to file a claim against another driver.
Q: How Much Can Someone File a Claim for After a Car Accident in Miami?
A: In most cases, you won't be able to get more than $10,000 from the insurance company to assist with injuries. To help with the rest after severe or long-term injuries, you may file a claim against the other driver. The other party may be responsible for paying for the rest of the costs if they were at fault for the accident. There is no cap on payouts from a claim, but it's only for specific severe injuries.
Callejo Law: Experienced Miami Car Crash Law Firm
You may not know where to turn following a car crash that resulted in a serious injury. You'll likely need more money to help cover your medical expenses. In these instances, it pays to have a Miami car accident attorney on your side handling the case while you focus on healing.
At Callejo Law, we help clients dealing with motor vehicle accidents all the time and have plenty of experience helping clients get the money they deserve. We speak Spanish and can provide you with a consultation to give you an idea of what kind of restitution could be available in your case. Contact our office in Coral Gables today for your consultation and to see how Callejo Law can help you after your accident.